Safecure 5000 Curing Compound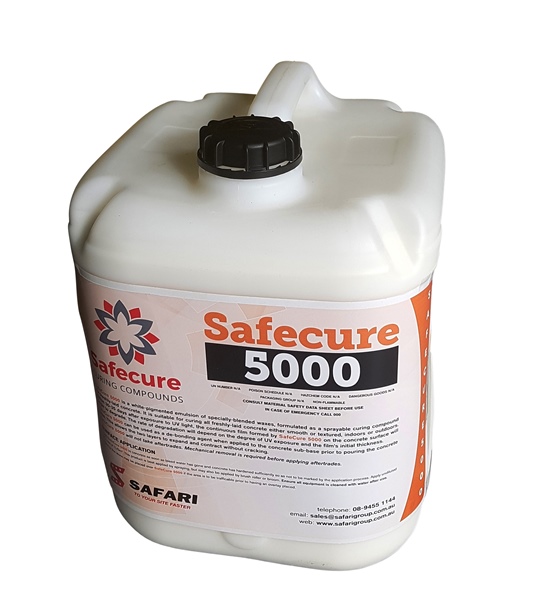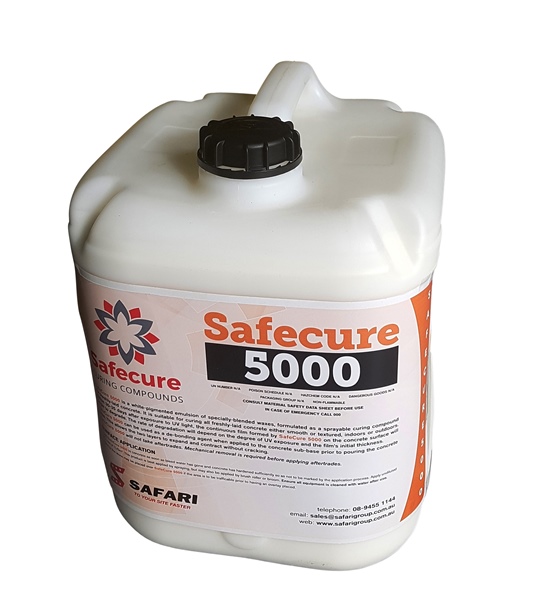 Safecure 5000 Curing Compound
SafeCure 5000 is a white-pigmented emulsion of specially-blended waxes, formulated as a sprayable curing compound for freshly-laid concrete. It is suitable for curing all freshly-laid concrete either smooth or textured, indoors or outdoors.
Within 30-35 days after exposure to UV light, the continuous film formed by SafeCure 5000 on the concrete surface will begin to degrade. The rate of degradation will depend on the degree of UV exposure and the film's initial thickness.
SafeCure 5000 is especially popular on bridges and road projects, and can be used as a de-bonding agent when applied to the concrete sub-base prior to pouring the concrete base. This allows the two layers to expand and contract without cracking. SafeCure 5000 will not take aftertrades. Mechanical removal is required before applying aftertrades.
Sprayable curing compound for freshly-laid concrete

An emulsion of specially-blended waxes

Suitable for curing a wide variety of concrete in different applications and environments

Can also be used as a de-bonding agent

Will not take aftertrades
SURFACE APPLICATION
Apply SafeCure 5000 to concrete as soon as bleed water has gone and concrete has hardened sufficiently so as not to be marked by the application process. Apply undiluted at a rate of 1L/5m², so a 20L drum will cover approximately 100m2 of concrete. This product is best applied by spraying, but may also be applied by brush roller or broom. Ensure all equipment is cleaned with water after use.
Sand or fine stone may be placed over SafeCure 5000 if the area is to be trafficable prior to having an overlay placed.